Born and reared in San Antonio, I am a Texan at heart, but a forty-plus-year resident of Colorado.  After a BS in Electrical Engineering at Texas A&M (and four years in the Corps of Cadets), I served in the U.S. Air Force.  Denver Seminary drew me to Colorado in 1975, along with my wife and two very young children.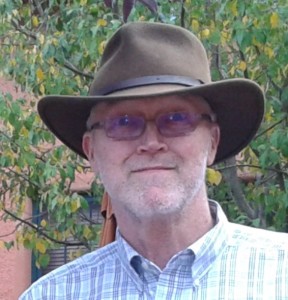 Seminary was a good experience, especially as it confirmed and intensified my interest in Biblical languages.  After a brief time as the pastor of a small church, I returned to a career in engineering.  Eventually I helped to begin a small engineering software firm, SoftWright LLC.
Retiring from that profession has given me more time to study, write, and teach, all of which I thoroughly enjoy.  GoodNotSafe, and especially the blogs I have begun in recent years, have been a part of that increased freedom in my schedule.
Several streams have contributed to my spiritual formation (and continue to do so).
InterVarsity Christian Fellowship on the A&M campus was instrumental in my early understanding of what the Christian life might look like.  My desire for methodical, inductive Bible Study began in a dorm small group with an IV leader.  Instead of telling us what to think and believe, he was asking really good questions about the text of the passage.  I remember consciously thinking, "I want to do that, both for myself and to help others learn to do the same thing."  IV also connected me with C. S. Lewis, Francis Schaeffer, John Stott, J. I. Packer, and a long list of other Christians who shaped my thinking about the intellectual credibility of the Faith.
Shortly after moving to Denver, our family began attending a local church (later to become South Fellowship).  What we saw there was a powerful combination of orthodox, evangelical preaching and a ministry with clear ideas of what it meant to make disciples in a reproducible way.  As important as seminary was, South has had a much deeper and longer lasting impact.
Most recently (since 2009), NewWay Ministries and the writings of Larry Crabb have stirred the most change in me.  The priority of relationships growing out of a relational, Triune God has become more and more of my thinking.  Trusting God continues to be a growing experience as He calls us to a path that is often uncomfortably narrow.  Staying on that path means shifting my thinking from the details of my story to the larger story God is telling.  That process continues to be both challenging (see Shattered Dreams[1]) and liberating (see The Pressure's OFF[2]).
Evidences of those influential streams (and others) will probably be obvious as you explore GoodNotSafe.  I welcome your thoughts and comments.
Michael Wiebe
Centennial CO
October 2016
[1] Larry Crabb, Shattered Dreams (Colorado Springs, Colorado:  WaterBrook Press, 2001).
[2] Larry Crabb, The Pressure's OFF (Colorado Springs, Colorado:  WaterBrook Press, 2002).